Well I manage to do LOTS of hobbies. Don't know how I find the time to do them all. They include: riding my RF600 of course, road biking (Claud Butler Milano), mountain biking XC (Marin Wolf Ridge full susser), Scouting, mountain walking, climbing, speleology, reading, target and rabbit shooting, wildlife watching and bat conservation to name most but not all.
Not going to post any pictures of them as I'm sure you've all seen similar.
Recently, however, I took up knife making. I don't make the blades themselves as I don't have the equipment (yet), but I make the handles and design, cut and hand sew the sheaths for them.
Here's a few examples.
My first attempt: A Lauri blade with a stacked handle of brass, willow, alder, bamboo, ebony with birch spacers and a larch burr top with an antler tipped firesteel.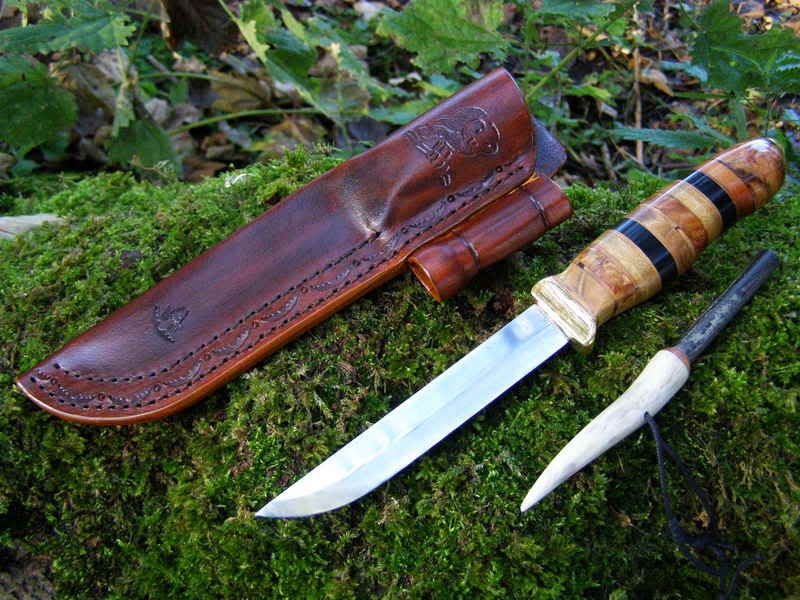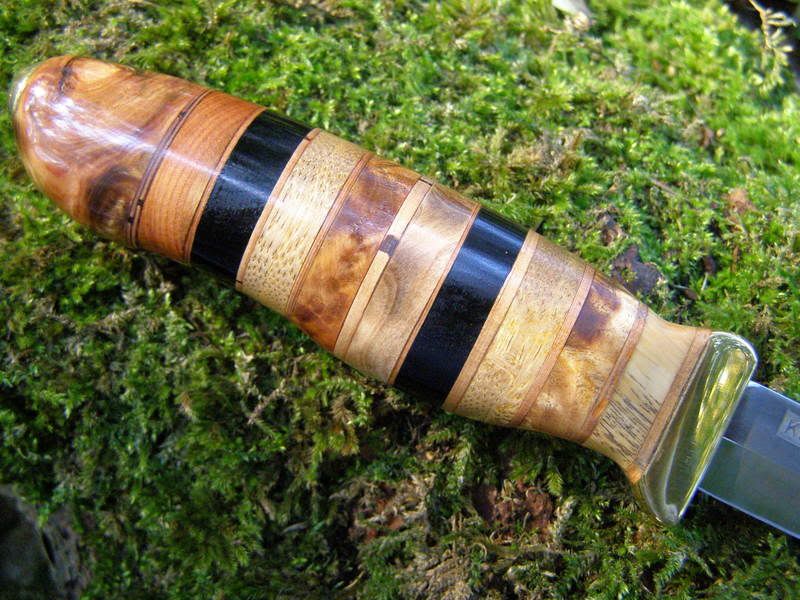 A cheap Tomahawk gut-hook knife. A made a comfier handle for it and a magnetic neck sheath.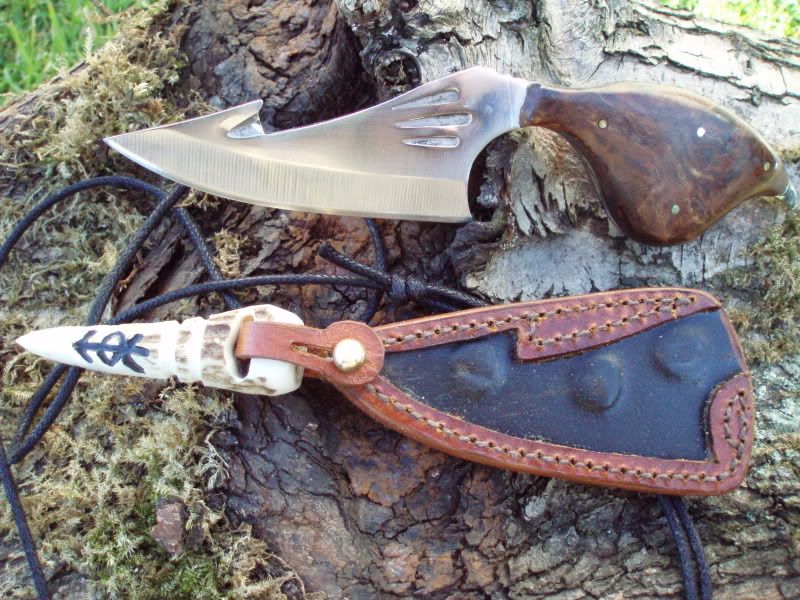 I bought a couple of Frost's Mora knifes cheaply at a show. I didn't like the rubber handles so I rehandled this one with an elm bur handle with red fibre liner and made a Scandi style sheath with antler button strap for it. I made the handle too small for me, but it's a good fit for the wife!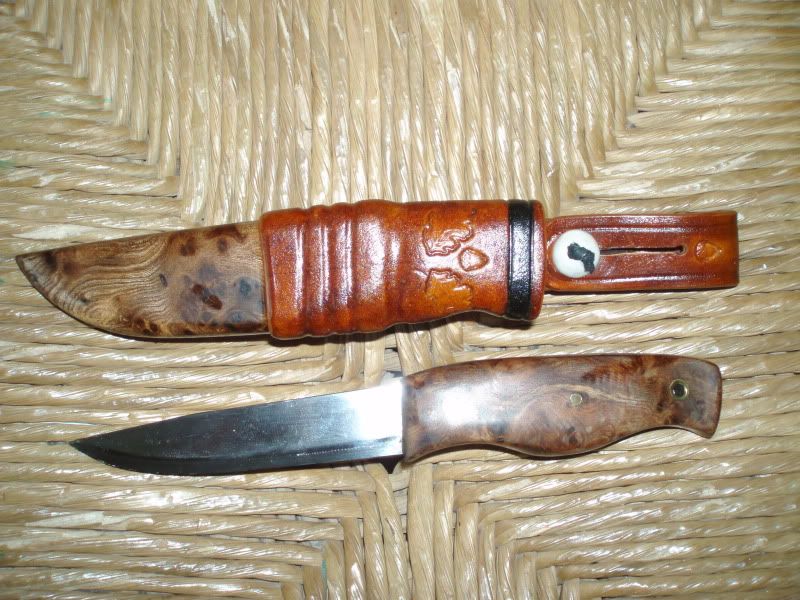 I've always had an interest in the American Bowie style knife so I bought a stainless steel Pakistani made blade and made this. It is a yew handle with layered brass, ebony and bone features. A curved and polished brass guard and I designed a more ornate patterned belt sheath with a mystery braid retaining strap.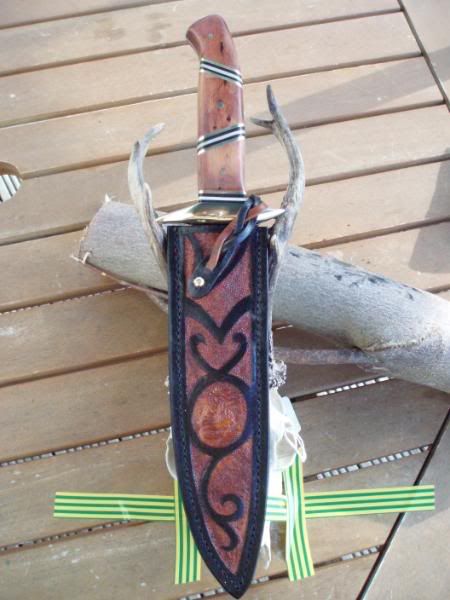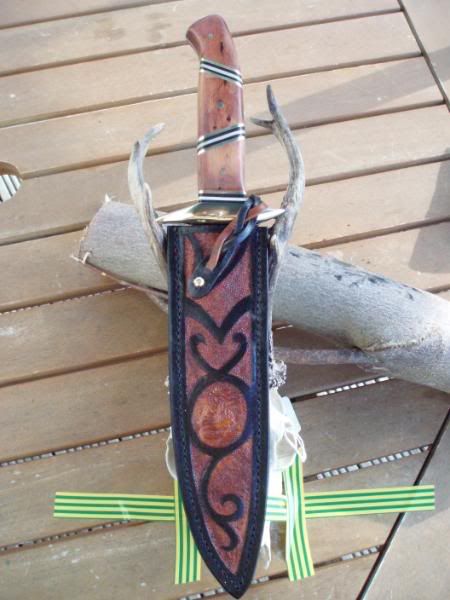 I sometimes do a bit of fishing and sometimes need to fillet fish from the shops so I made a Lauri fillet knife using cocobolo wood and made another Scandi style sheath. For a change I got hold of some red dye to add a bit more style, but I don't have a foto of that!
My latest task was to make a set for my father-in-law for Xmas. I made a cocobolo, buffalo horn and brass handled handled knife with matching firestriker. I then made a rather complex design sheath which takes both the knife and the firesteel and also has a pocket for a BladeTech knife sharpener. Oh, and I fitted a small button compass as well !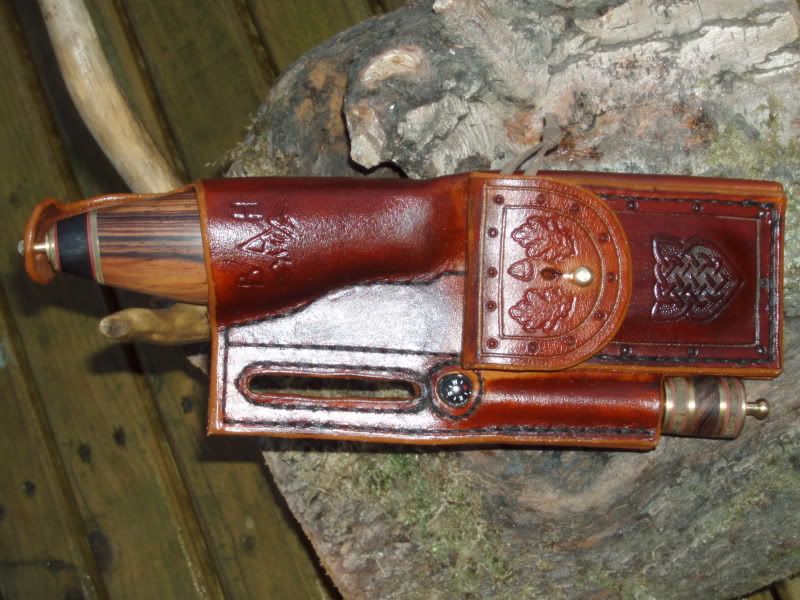 What do you think?
My work colleague keeps accusing me of making more weapons than I need, personally I think she is just jealous!!