work in progress..please PM me with any ideas for posts to add OR if any information is incorrect
.
Have added this post to include some simple questions newcomers ask
re posting pics, uploading youtube vids.
So if your new, here's some help getting started....
RFOC welcome pack for New members
So got your eye on a bike or better yet, bought it...
well, whaddya get
... the 600 or did ya go the 900...
both good bikes in their own way...
but that don't stop us picking sides...
600 V 900
maybe of interest...
how far will a full tank get you, and what mpg does that mean
Want some ideas of what other members have done to their bikes...
Check out our Gallery of owners Bikes.
RF OWNERS Gallery
Want to meet up with like minded riders...
How about joining up at one of the meetings ..
OR maybe your more of an Exhibitionist..
Why not come and see the Guys OR even participate at The MANCHESTER Bike Show...
(usually around the last weekend in March/1st weekend in April)
----------------------------------------
once you've introduced yourself with a pic & settled in
Perhaps you'll want to start considering doing a few bits to your bike.
There is a wealth of topics/discussions and walkthru's on almost any part of the RF,
but here are a few of the more usual ones most ask about.
For the very best, one of your First port of calls should be
the SHED
Our very Own FASTFITTER, hosts his own Forum, discussing & offering help, tips and insight into many of the issues and
updates members have with the RF Series.
As a help point for info i have just added one or two topics made by Fastfitter and others
some of which are "
how to's
" on some common areas of servicing the RF.
I will add and up date as i find them.
Post are in the general populace of technical posts and can be found by
Clicking here...
which is also found in buttons just below RFOC Banner above all pages.
OR take Pot Luck by Clicking here
and checking out the other Forums, where many more topics can be found.
This staging post just makes it easier to point members to them
BULBS
Removing front fairing for access to instrument/pilot light bulbs
*Instrument panel and assorted bulb specs*
"12v 1.7w" for speedo (x2), tach (x2) & temp lights.
You need this type
12v 3.4W ...neutral, high beam,, turn signal indicator light, oil pressure, fuel lights
"12v 60/55w"...headlight
"12v 21w".....turn signal lights, brake light (x2)
"12v 5w"....tail light, license plate light
Wing mirrors
Suzuki RF600 / RF900 / GSXR750 92-95 / GSXR1100 1992-1996
M&P 525442
Ebay and look for 587015
looking the individual ads it does look as like most of these DO fit:
MAKE MODEL YEAR CC
Suzuki GSX-R 1100 WS (L/C) (GU75A) 95/96/97/98
Suzuki GSX-R 1100 WR LC GU75A 1994
Suzuki GSX-R 1100 WSK-S (L/C) (Race Style Braced Swing Arm) 1995/96
Suzuki GSX-R 1100 M SACS Slingshot GU73A 1991/92
Suzuki GSX-R 600 V (SRAD) 1997/98/99/00
Suzuki GSX-R 750 T (SRAD) (L/C) 1996/97/98/99
Suzuki GSX-R 750 WN LC 1992/93/94/95
Suzuki RF 400 (GK78A) 1994
Suzuki RF 600 (GN76A) 1993/94/95/96/97
Suzuki RF 900 1994/95/96/97/98
Suzuki RGV 250 1990/91/92/93/94/95/96
Suzuki RG 125 FUN Gamma ll 1992/93/94
Suzuki TL 1000 (Fully Faired) (Racing Version) (VT52A) 2001/02/03/0
Suzuki TL 1000 (Fully Faired) (Racing Version) (VT52A) 98/99/00/01
Suzuki TL 1000 SV (Half Faired) (VT51A) 1997/98/99/00
But please double check before buying
FAIRING SCREWS N BOLTS
front fairing bolt and screw sizes
Link Socket Button Screws A2 Stainless Steel M5 x 16mm Pack of 50
COLOUR
So what IS your bikes colour and colour code..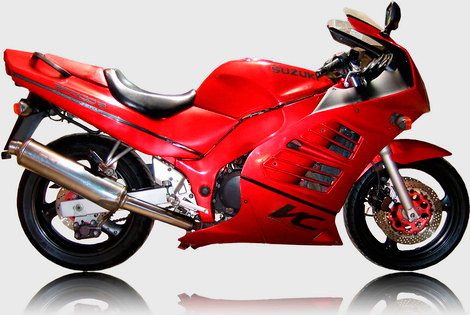 BA's
COLOUR
chart
project
RF SERIES Model History.
A little insight into colour choice and changes during years of manufacture
NB. Models start as RR, and each year is amended by one RS,RT RV
http://www.suzukicycles.org/RF-series/RF900R.shtml
http://www.suzukicycles.org/RF-series/RF600R.shtml
http://www.suzukicycles.org/RF-series/RF400RV.shtml
model images
http://www.rfownersclub.co.uk/viewtopic.php?f=16&t=4296&hilit=new+model+rf&start=0
COOLANT
Coolant drain and refill
CHOKE ISSUES
sticking choke #01
Sticking Choke #02
Carb balancing
FASTFITTERS Guide
BEGINNERS Guide
BRAKES N CLUTCH
Changing brake pads (pistonbroke)
ferodo 900 - FDB 557 / 600 - FDB 570
Bleeding your brakes (fastfitter)
reverse bleed brakes
( Scroll down and Novo and Steve JW posts
)
http://rfownersclub.co.uk/viewtopic.php ... ch&start=0
Bleeding the Clutch
Include how to swop clutch master cylinder (bastsrd tight) for loose. relaxing busa one from Steve JW
http://rfownersclub.co.uk/viewtopic.php ... the+clutch
Raising the Bars.
fast fitters guide #101
You will need a long brake line and thats it
you can just put bandit 12 risers on the REAL (lower yoke) and use bandit bars ,
OR you can use the bandit 1200 mk1 (mk 2 will not fit) top yoke instead with the b12's risers
BUT you need to make up shim for the stem.
NB: You will also need a long top hose , or get a 2 line race set up for a bandit(Source: Madsod)
NB2: The early Bandit 600 is a direct fit onto the RF600,
with no additional bushes etc required!
Articles on how:
http://www.rfownersclub.co.uk/viewtopic.php?f=5&t=13545&hilit=straight+bars&start=10
http://www.rfownersclub.co.uk/viewtopic.php?f=6&t=14084&hilit=handlebars&start=0
http://www.rfownersclub.co.uk/viewtopic.php?f=6&t=15082&hilit=handlebar+conversion
MULTI METERS
Fastfitter in 'Tales from the Shed' discusses the ways and wherefores of using a Multimeter.
The SHED: using your multi meter
And from Novo..
linked multi meter tutorial
Helpful tip.(BA)
BA wrote:
Continuity:
Its just a posh word for test to see if its a broken wire or circuit.
Imagine it like a bulb and a battery - wires together bulb lights - wires apart bulb out.
in the case of a meter set to continuity - wires together it beeps -wires apart it dont.
with the added bonus of giving you a reading of the resistance of the circuit if it isnt broken.
ALTERNATOR:

A SHED SPECIAL
While the RF is practically bullet proof, it does have ONE real weakness..The 'later' alternators.
the most common serious complaint about the RF....the alternators dies on later bikes.
FastFitters eXcellent post from
The SHED
, shows what to look for, how to fix it 'Like for Like' and also how to swap out for
'Earlier' type and Avoid 2nd or 3rd
Alternator failures.
My Batteries gone flat...or Why your alternator got Goosed
Highly Recommended reading for all owners, because if you got the later type it's WHEN, not IF it's going to Fail...
so prep early and avoid the panic when that day does come..
in any event, power loss and glitches can occur due simply to the age of the bikes wiring.
fastfitters guide will help identify most likely areas to check'
The SHED:electrical wiring, Common points of failure
CHAIN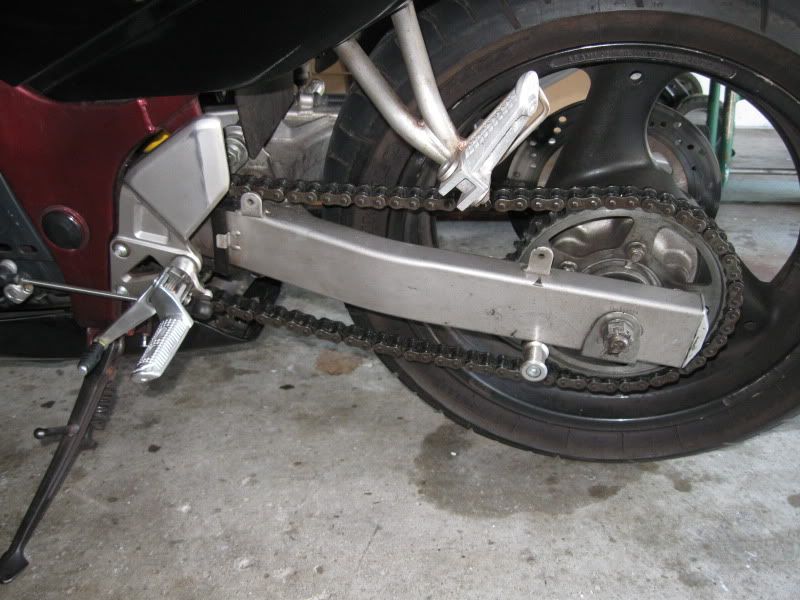 How to fit a new chain (Kilmister)
Fitting a new chain (pistonbroke)
Required D.I.D. X-ring Chain 530, tippex to count links on old chain (standard length 108, But DO check first before ordering )
One 32 ml socket & possibly one breaker bar (front sprocket nut) 1 Chain breaker/riveting tool OR hammer and weight.
Chain breaker
http://rfownersclub.co.uk/viewtopic.php?f=6&t=1144&p=11260&hilit=+Crane#p11260
REPLACEMENT SHOCKS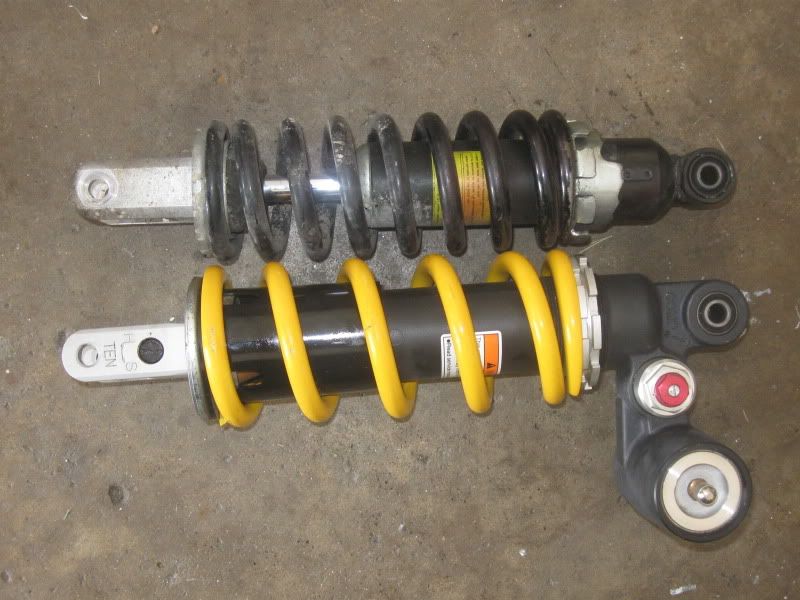 What else fits the RF's:
INFO (courtesy of Mike)
gsxr 1000 shocks fit k3-k8
Gsxr 1000 shock lengths
K1, K2 - 329 mm DOES NOT FIT
K3, K4 - 332.5 mm (will jack up the bike more 10-20mm.)
K5, K6 - 325.5 mm (will jack up the bike more 10-20mm.)
K7, K8 - 315 mm (K7/K8 closest to rf900 shock, offer more adjustment)
Mike da Pipe wrote:
Standard set up:
preload- 3mm thread showing from top of spring collar
rear rebound damping - 1.5 turns out from full stiff
rear comp. damping- High-speed: 3 turns out from full stiff/ Low-speed: 1.75 turns out from full stiff
To adjust the preload on the shock spring (collar) you need a C-Spanner
Low-speed compression is the brass screw inside the high-speed compression dial.
It is primarily where your shock adjusting will take place.
instructions means you should turn the compression (or rebound) clicker all the way in (clockwise) and then back it out for
the appropriate No of indicated turns.
"In" is stiffer, and "out" is softer.
The rebound adjuster is on the bottom of the shock. it is measured from clicks out from all the way in.
GSXR 600/750 shocks fit K4-L0
(L zero) its the model after the K8 but effectively a K8 shock.
All shocks require washers as per guides.
NB: just make sure the ends are the same (as in pica bove) as some are not.
(
see mikes main body posts (below) for more info
)
SWAPPING OUT SHOCKS 'How To'
(picture posts)
Ilmors rf900
Kilmisters rf600
Various shock discussion posts here
Post 1
post 2
Setting standard shock
ollie shock swop GSXR 750 K6 tale no pics
DOG BONE LINKAGE BEARINGS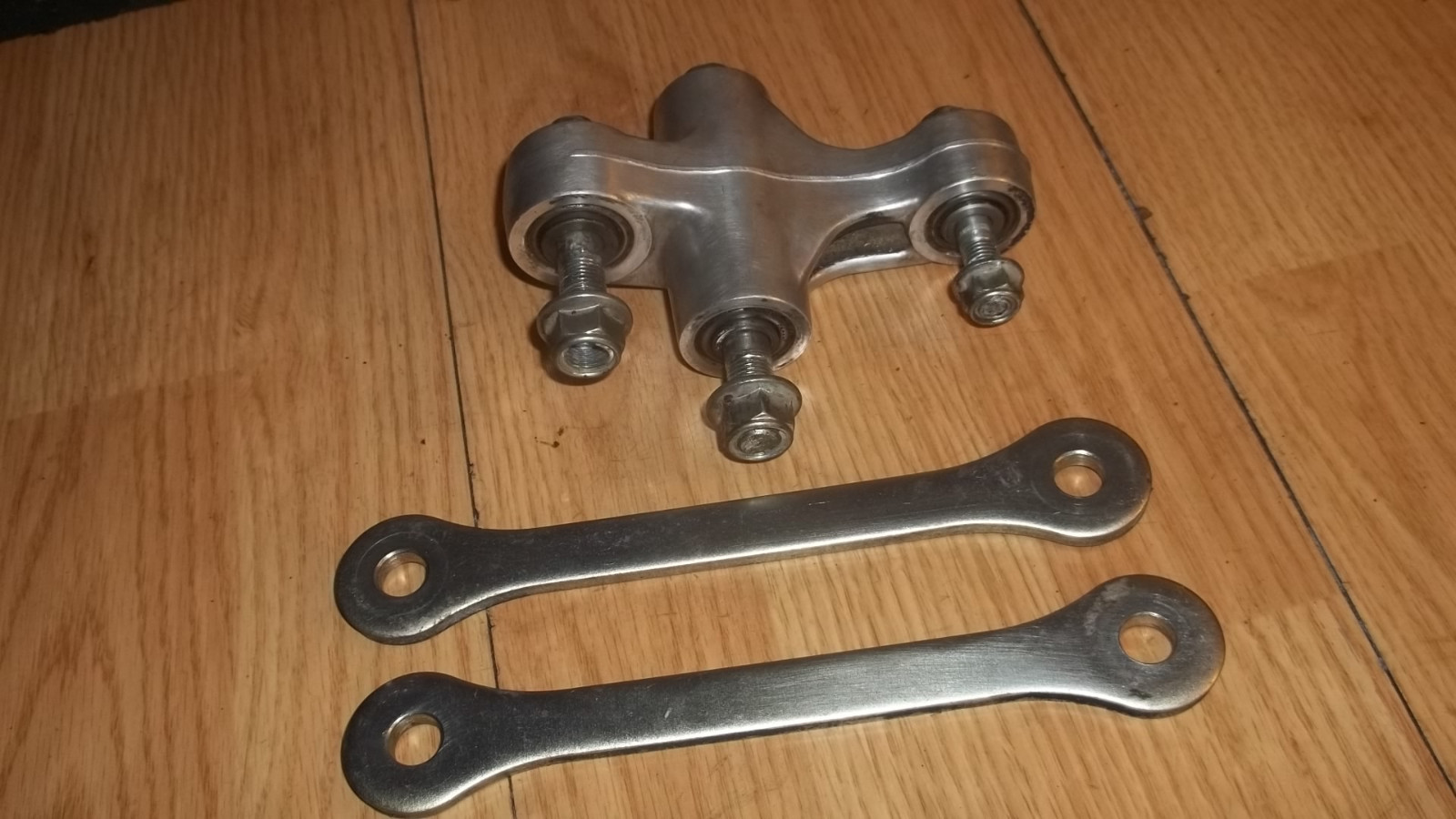 IF doing the GSXR swap above, it maybe a good idea to look over this post for bearings.
if neglected bearing will fail and you'll notice when you check linkage during swap.
So as it is a once in a blue moon event, why not prep early, get all you need in and do the lot in one fell swoop...
Top tip from fasty
is buy a breaker dog bone knuckle, buy bearings and fit at your leaisure, then when you do the shock swap,
swap out the entire knuckle for one that's fully fitted, greased and ready to roll.
Make the job a WHOLE lot easier..
Dog bone linkage bearings
HEADSTOCK BEARINGS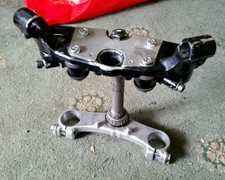 checks and adjustments
http://www.rfownersclub.co.uk/viewtopic.php?f=6&t=11187&hilit=bearings&start=0
here was a post NOT rf related but interesting as to what the headstock is all about and how it looks and operates
http://www.tlzone.net/forums/performance-enhancement/129874-how-replace-oem-steering-head-bearings-tapered-units.html
DYNOJET / IGNITION ADVANCER
Installing a dynojet kit for the rf600
compliment of Kilmister
http://rfownersclub.co.uk/viewtopic.php?f=6&t=5068&hilit=ignition+advancer
fitting 4degree ignition advancer..almost a pic how to and some guidance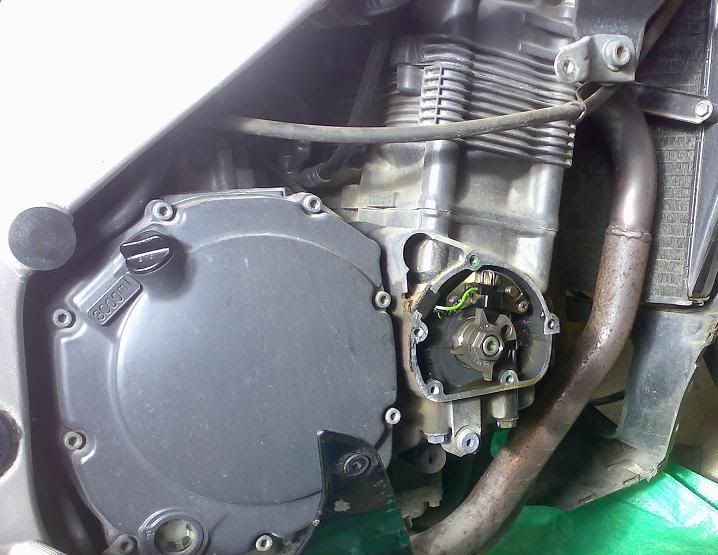 http://rfownersclub.co.uk/viewtopic.php?f=6&t=2295&hilit=ignition+advancer&start=10
http://rfownersclub.co.uk/viewtopic.php?f=6&t=3664&hilit=ignition+advancer
FORKS and how to rebuild them
Mr Fastfitters Forks Post
CRASH BUNG FITMENT
Fitting crash bungs to the RF
Schematic
Buell footpegs (Footpeg Lowering)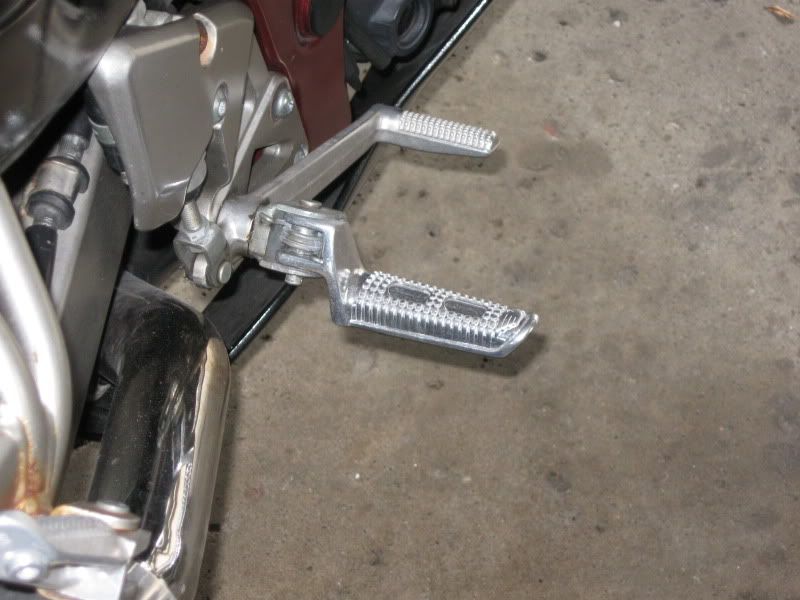 Kilmister/tony v
REAR SETS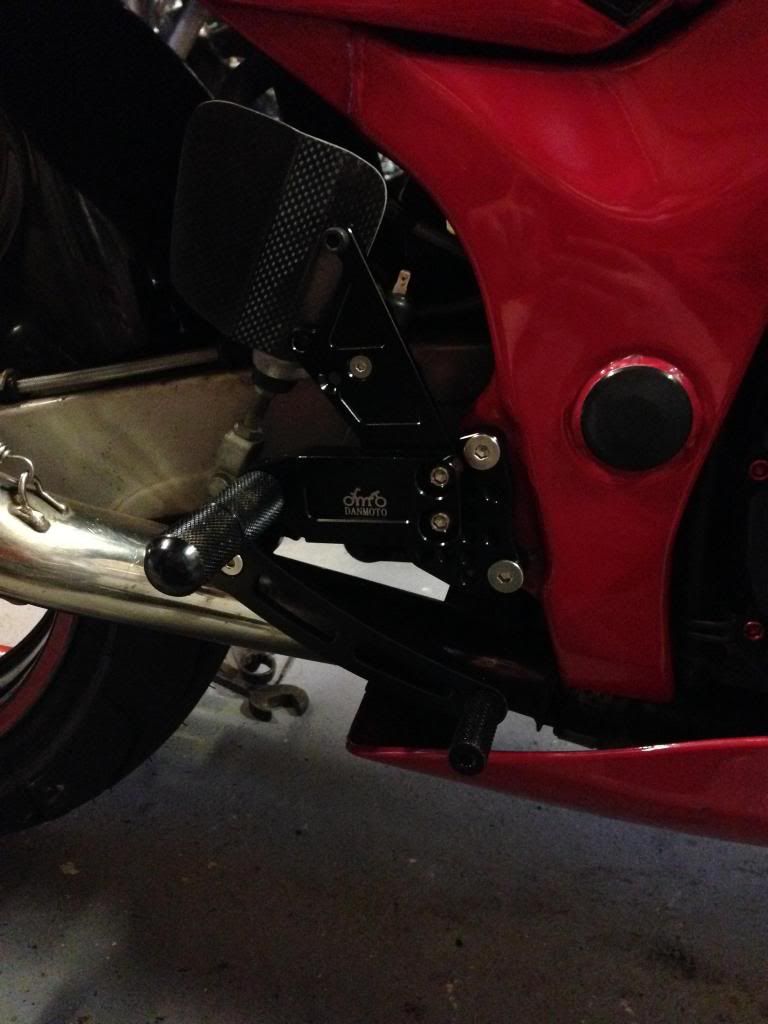 Post By Mikerf600.
http://www.rfownersclub.co.uk/viewtopic.php?f=5&t=23915
Potential luggage fitment options posts
Wingrack and fittings
d.i.y. fitting post
Steve JW pannier rack
VALVES
..(Do make sure your competent enough to before you start fiddling around here
)
How to check your valves (Fast fitter)
LEGAL ISSUES
ViN..Vehicle Identification Number explainers by Novo.
Need to find out where your bike came from.?
start here
https://www.suzuki-gb.co.uk/motorcycles/about/extras/vin-checker/
then the tenth number of the VIN number stamped in the frame will tell you the year:
R=94
S=95
T =96
V=97
W=98
x=99
your VIN number should be something like
JS1 GT71A XV 2 ******
which means : Japan suzuki motorcycle, multicylinder sports bike 850-999cc 4 stroke,
four first design first model, check digit, year code, serial number.
([url]
O/P viewtopic.php?f=54&t=21131&start=10
[/url])
many thanks to the members of the RFOC for help make this post.
particularly: Fastfitter / pistonbroke / novocaine /steve jw / Kimister / mikerf600 / berapotter / illmor / alien / royster